ABOUT US: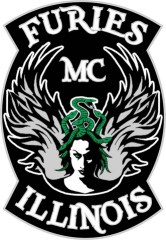 We are a women's motorcycle club located in the Chicagoland area. Our group was established June 6, 2010 by six founding members, although we have been riding together for a few years prior to that. Currently, our members come from Chicago, Southern Wisconsin, the Northwest Suburbs, and the Western Burbs. We are a diverse group of women and we welcome women of all ethnicities, lifestyles, orientations and backgrounds, no matter the brand of bike or level of experience.
We invite you to participate in our discussions, come to a monthly meeting and introduce yourself, and watch our calendar for "open" rides (those open to nonmembers). Although we have great respect for our scooter friends, this group is limited to motorcycles.

We meet on the last Wednesday of every month at 8 pm at ALLEY 64 BAR & GRILL, 2001 N Rand Rd, Palatine, Illinois. You are welcome to attend a meeting and introduce yourself! Check the calendar for details. We are truly a group that loves to spend time on our bikes and ride! We like to take short, weekend roadtrips as well as long, cross-country adventures! If you attend one of our rides, we request that you bring your drivers license with M class approval and proof of insurance.
We endeavor to cultivate a sisterhood between all women who feel the love of the road and adventure and who have a desire to form strong friendships with fellow women riders. We encourage our members to participate in courses which further develop their riding skills as well as those focused on personal safety and first aid. We strive to be an example to the community of what a confident, independent, skilled woman rider is all about.


Leave the drama and the politics at home. Forget the stress that weighs you down. You are a strong, independent, powerful woman with your own voice. Now, let the world know it. Get on your bike, come ride with us and make your presence known.
---


FURIES MC IS PROUD TO BE A MEMBER OF THE POSSE. THE POSSE IS GROUP OF LOCAL BIKE CLUB LEADERS WHO MEET REGULARLY IN ORDER TO PROMOTE MOTORCYCLE AWARENESS, SAFETY, AND CHARITY EVENTS.