ETERNAL TORMENT OF MR. HAPPY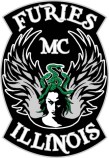 MR. HAPPY IS OUR AEROSTICH BUDDY.

HE FORGOT TO WEAR HIS COLORS ON A RIDE ONCE, AND NOW HE IS ETERNALLY PUNISHED BY THE FURIES FOR HIS LAPSE IN JUDGMENT. WELL, WE ARE GODDESSES OF VENGEANCE, ARE WE NOT?

WHEREVER THE BIKE GOES, SO GOES MR. HAPPY. HE ACCOMPANIES ALECTO ON ALL HER RIDES.
NO ONE, HOWEVER, CAN BE THAT HAPPY ALL OF THE TIME, NOT EVEN HIM.
DON'T LET HIS DUCT-TAPED CRAZY SMILE FOOL YOU, BECAUSE HE LOVES ALL THE ATTENTION AND NOT ALL OF HIS EXPERIENCES ARE TRAUMATIC!

THIS IS A PICTORIAL ACCOUNT OF THE TRIALS AND TRIBULATIONS OF MR. HAPPY.


---