WHAT IS A FURY?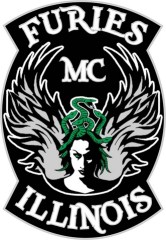 The Furies are known in Roman mythology as the three goddesses of vengeance. They are also known in Greek mythology as the Erinyes, or curses in human form. These sisters are the daughters of the union of Gaea/Gaia (the mother earth) and a single drop of blood of her son and husband, Uranus (father sky).

These goddesses who made their home in the underworld would punish all crime, both personal and those made by society. They existed to torment sinners below. They were unceasing in their hunt for the wicked, those that deserved punishment. The most serious crimes were those against parents. They punished relentlessly, those crimes which could not be reached by man on this realm.

The Greeks and Romans feared even to say their name outloud. Instead, they found it safer to refer to them as the Kindly Ones or the Venerable Goddesses. Their justice was accepted as cruel and wicked, but ultimately fair in judgement and severity.

---
================================================================================

ALECTO - unceasing anger; endless; constant anger
MEGAERA - grudging; the jealous; especially resentful of adultery
TISIPHONE - blood avenger; punisher; avenger of murder and crimes against family

Also known as: maddness, dreads, or the raging ones!
================================================================================


ADDITIONAL SOURCES OF INFO ON OUR MYTHOLOGICAL NAMESAKES: