OCONOMOWOC (MAY 2010)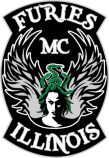 So the day had quite the auspicious start....
first I was wicked late ... never depend on a boy to get you some place on time... and then my GPS wasnt working... so color me highly annoyed in your programs if you are playing along <>.
But I digress! Lisa is a Wisconsin Road Wiz! Off we went - over hill over dale - somehow she got us to
Kettle Moraine
and we got in some twisties before gentle country roads to Oconomoc HD
We did have some blow ups because people WONT follow the dang rules!
Blow up #1... I mean HONESTLY... big fight in the parking lot as we yelled at Lisa for her riding... geeze, she was safe, she was using hand signs, we were zipping along at a good rate, she didnt leave anyone behind... i mean WTF? She could have killed me with kindness! We quickly got that straightened out! As we fell OUT laughing I spied a few bikers checking us out.... bet that gave them pause
The dealership is very nice and we tried on a ton of bikes - and we helped a new female passenger learn how to get on a bike and ride behind her man...
As we went to leave we were stymied... how would we ride? We had no man to be in front... ah hell we just muddled along riding our own.
ice cream and cake.. ice cream and cake...
yea well - Lisa - Lil Ms Skinny Minny... brought us to Culver's but we got no love there! To the point where we got the nutritional pamphlet so we could make good healthy choices... not nearly as much fun - and those salads... yea they top in at 400+ Calories... just sayin - the conversation took some odd twists and turns - we ended up talking about Michigan Womyns Fest (
http://www.michfest.com/
) ... and separatists and Karen pronounced Lisa an honorary Lesbian... I think Karen gets a nice kitchen appliance for that... <>- but I digress again... ANYWHO.... some bad ass bikers on their hippy bikes gave us the eye for our "girl talk"... you know - does THIS bike make my ass look big? and so I glowered at them - then realized - ohhh not as bad ass w/o my <> patch... darn it all to heck!
Due to our lagging - Lisa told us we could not go to her surprise destination - THAT my friends will be saved for another day!
Somehow it was already 4ish... so we did a zip line back to 173 and Wilton.. it was nice to get some speed .. LOTS of cops out!
JANET got a demerit.. she had the NERVE to pass our fearless B-day Leader as we were coming up to a construction site... <>.
As we were yelling I think we scared the BMW rider who pulled up behind us... and the other bikers were annoyed by our laughter. I gave the next lecture about bikers and laughter... there is NO laughter in biking... <> Demerit, Demerit, Demerit!
Super terrific day - just so nice to be out with everyone again - we were missing Nadine, Caryl and SueTracy...
Patch Ideas... We saw a BIG
Smiley Face
welcoming us to Richmond or some such...and thought Caryl would LOVE that as our new back patch!
MJ
---