MEMBERSHIP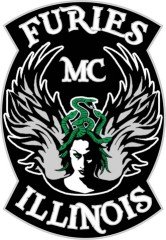 WE ARE ALWAYS LOOKING FOR SISTERS TO JOIN OUR GROUP,
BUT WE DO TAKE MEMBERSHIP VERY SERIOUSLY.

WE SUGGEST YOU TAKE SOME TIME TO COME OUT AND RIDE WITH US, JOIN IN OUR MEETINGS, BECOME ACQUAINTED WITH WHO WE ARE, EAT PIE WITH US, AND THEN DECIDE IF YOU THINK YOU HAVE WHAT IT TAKES TO BE A FURY.
WE ARE A MOTORCYCLE CLUB, NOT TO BE CONFUSED WITH A RIDING CLUB. OUR PATCHES ARE EARNED. UNLIKE A RIDING CLUB OR AN ASSOCIATION, YOU ARE NOT ABLE TO BECOME A MEMBER OF A MOTORCYCLE CLUB BY MERELY PAYING A FEE OR PURCHASING THE PATCH. YOU MAY BE A MEMBER OF MULTIPLE RIDING CLUBS AND ASSOCIATIONS, BUT YOU CAN ONLY BELONG TO ONE MOTORCYCLE CLUB. HERE IS A WEBSITE THAT WILL PROVIDE YOU WITH A TON ON INFORMATION ON THE INTRICACIES OF MOTORCYCLE CLUB ETIQUETTE.
PLEASE SPEAK TO ONE OF OUR MEMBERS DIRECTLY IF YOU FEEL THAT YOU WOULD LIKE TO JOIN OUR GROUP.

WE PROMISE THAT WE WON'T BITE.
WELL, PROBABLY.

---